Why You Need To Be A Redhawk
Posted on March 26, 2017 by Joshua Owens No comments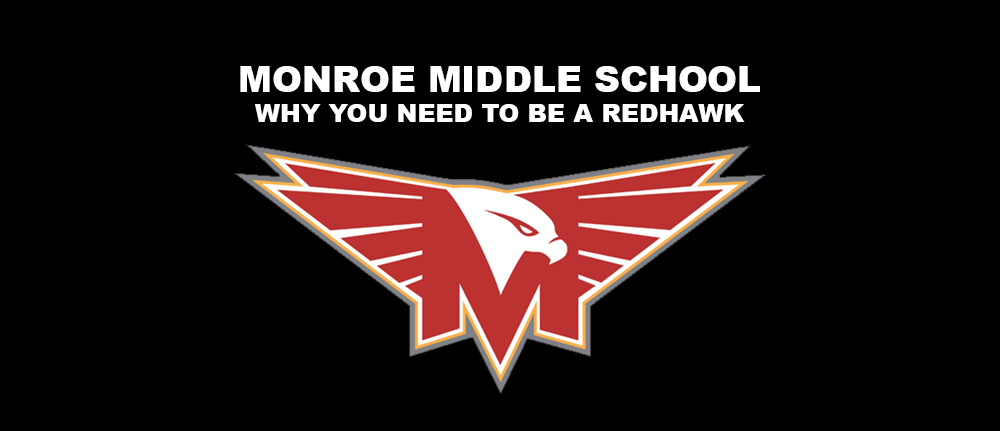 "Why I am A Redhawk!: The Value of Tutoring at Monroe Middle School"
I still remember the conversation with the realtor as she walked me through the home I was considering. It was late July of 2014, and I was touring homes that I was considering to rent in preparation for my move to Monroe to begin serving as Associate Minister at First Baptist Church, Monroe that September. As we made our way through the living room of the potential property, she turned to me and asked the question that after two and a half years, I still can't erase from my memory… "Do you have any kids who would be attending school?" Seems like a simple enough question, one that I am accustomed to getting as a young minister. However, it was her response to my answer that makes her question so tragically memorable. After I said no she said, with little remorse, "Okay good. Just wondering because this particular house is zoned for the Monroe city schools and you are probably like most other families in the area, and you won't want your future children to attend those particular schools."
I was completely taken aback by her lack of hesitation and the assertiveness in her response. I was both equally brokenhearted and angry by what she said. I knew that the students of my future church attended various schools around Union County, but I resolved in my mind in the moments following her statements, that the Monroe city schools was where I wanted to find a way to invest some of my time in the community. I knew that if she felt that way, then many others did as well. To me I knew then what I believe now, that the kids who fly the colors of Red and White as Redhawks, are just as important and worthy of supporting as all of our students in the area who fly any of the other meaningful and worthwhile colors of their schools. The only difference is the unique challenges specific to each learning community that must be overcome so that all students succeed.
So as I begin to integrate into the community and the town I am extremely proud to now call my home, I found my way into the halls of Monroe Middle. Middle school students have the unique ability to polarize the adults who surround them into one of two camps; either you love middle schoolers or you loathe them. I am squarely in the love camp. I am invigorated by the diversity of personalities and development levels you find with middle schoolers, and refreshed by being in the company of young people who are experiencing the unique dissonance of wanting the freedom to play as a child, but yet still assert themselves as independent and responsible individuals. These dynamics present immense challenges for those tasked with educating them, but I, as well as many of the staff of our city's schools,  welcome these challenges because to me, the middle school age is the most formative and vital years in a student's development, not only academically, but socially and emotionally as well.
Overtime, through various partnerships with those who are a part of the fellowship of First Baptist, Monroe, it was discerned that there was a specific need that we could offer tangible resources to, and that was through the avenue of tutoring. Multiple people from our church, including both lay and staff leaders, boldly jumped at the chance to enter into a unique partnership whereby adults are paired up with 6th graders who could use additional assistance outside of the normal classroom time. Some tutors meet with their mentees multiple times a week, while others like myself, join with a student(s) once a week for about an hour working through missed assignments, reviewing specific learning goals from the class lesson plan, and sometimes,  just talking about the matters of life that these students may be facing at any given point.
To me, that is where the rewarding aspect of this connection with our community comes in. Tutoring with these students provides the special opportunity to get to know these young people on a personal level. Having the opportunity to guide a student into unraveling a new concept and owning that is a powerful experience. But what is even more powerful is when they invite you into their lives; sharing their struggles, their fears, and their hopes. Sometimes, these personal moments cannot be easily solved by simply circling either A, B, C, or D. Yet it is this intimate opportunity to walk with a student that makes the experience of tutoring so extraordinary. It is a chance for a seasoned adult member of our community to extend a hand of encouragement and support to a younger, though vitally and equally important member, to let them know that their life is one that matters. That there are people who value them for who they are as a person, and that there are people who want to see them become the best versions of themselves that they can be.
So I serve at Monroe Middle because I am a part of this community, and even though I may not have attended there, it is my school… and it is your school too. Those students are our students, and we have the responsibility to provide every opportunity for them to succeed. Even more, we have the obligation to let them know they matter, and that we value their lives, personalities, and the unique individual contributions they make to our community. No matter the challenges that may be present, no matter what the erroneously preconceived notions from people outside of our community, they are our kids too! And I promise, after spending just a short amount of time with the students in our city schools, you'll be just as proud as I am to call them "mine."
Rev. Joshua K. Owens
Joshua serves as the Associate Minister for Children, Youth, & Their Families at First Baptist Church, Monroe in downtown. Joshua also works with the students at Monroe Middle volunteering as a 6th grade math tutor, facilitating the school's student-led YCI Bible Club, and this past season, serving as the head coach of the girls basketball team.  He is a member of the Heart for Monroe Steering Committee.