Why Your Church Needs to Partner with Heart For Monroe
Posted on October 16, 2015 by Aimi Gundersen No comments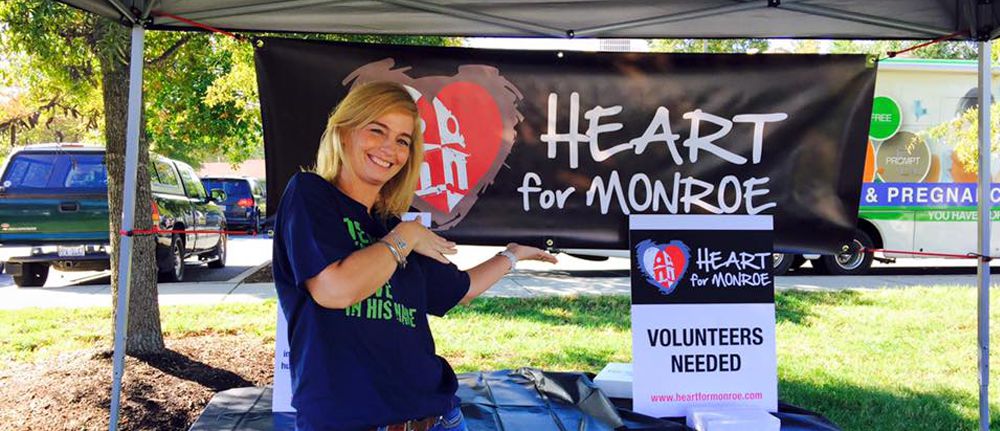 Who is Heart for Monroe?
Heart for Monroe officially started on October 15, 2015.  From launching at Shiloh Baptist as a youth project to its metamorphosis into a full, independent organization with over 36 local church partnerships, Heart for Monroe is on a mission to "Love God, Love People, and Do Stuff" (Bob Goff).
What do they do?
Heart for Monroe does something that I have not seen in awhile–they blur the lines of denominations and work together as the body of Christ to get stuff done! So often we can get wrapped up in denominations, our own congregation, or growing our own church. When we focus only on ourselves, it becomes less about Jesus and more about our personal agenda. Heart for Monroe crumpled up that agenda and started working together with 17 churches to make a massive difference in Monroe and the surrounding areas. They focus on four major areas of need: homelessness, hunger, education, and relationships.
Why should you care?
That is no small task, which is why they partner with churches like Southbrook. We partner together to be a stronger, more united, group. We partner to feed more people in a more consistent way. We partner because collectively we can affect so much more change than individually.
The most important reason that we partner is because it is what we are supposed to do!
Ecclesiastes 4:12 NLT
A person standing alone can be attacked and defeated, but two can stand back-to-back and conquer. Three are even better, for a triple-braided cord is not easily broken.
Our cord keeps getting stronger and stronger as we model what the Christ life is supposed to look like–going out and making a big deal of Jesus by actually helping. And Listening. And Learning from others.
It is pretty amazing.
And as we pool our resources, we can affect more change. We can meet and help more people.
Churches are a great partnership because many are already affecting change in their community on a smaller scale. What happens, though, is that churches overlap, some families get an abundance of help, while some remain underserved. Having an organization that allows us to get together, plan events, and be purposeful with our volunteers, time, and money is priceless. More people can be served in a much larger way when we unite our churches and work together.
Let's Do This!
If you are interested in volunteering for Heart for Monroe, or learning more about the different agencies within Union County who are making a difference, check out our new website and Start Doing Something!
If you would like your church to partner with Heart for Monroe, contact Ginger Walle at ginger@heartformonroe.com
Aimi Gundersen is a member of Southbrook Community Church and on the steering committee for Heart for Monroe. You can reach her at aimigundersen@gmail.com.