Wingate University / Food Lion Feeds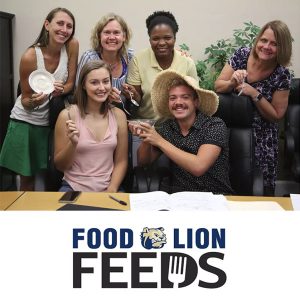 America is a land of plenty, but 42 million U.S. residents are at risk of going hungry. That includes almost one in four children in North Carolina. Wingate University is partnering with Food Lion and Heart for Monroe to help change these statistics this fall.
The enemy: hunger. The goal: eradication. The plan: partner with people on campus, in the community and at the local supermarket to get food to those most in need.
We are so excited to participate in the Food Lion Feeds Challenge with Wingate University. This project will not only help us tackle hunger in our community but also the $5,000 (up to $10,000) prize money will go towards planting school gardens in our partner UCPS schools and providing the curriculum for lessons and activities.
We need your church or school or community organization to help collect Food Lion brand non-perishable food items for a Souper Bowl Event at Wingate University on October 20th and drop off the food items to the Wingate Campus. All participants are invited to a day of fun-filled activities and games as part of Wingate University's Homecoming Celebration on October 20th.
The food collected will go back to feed children and families in our community through our Amazing Grace, Feed 500, and Backpack Buddy program. Food collected will also be delivered to the local food banks and Community Shelter of Union County.
Contact us at info@heartformonroe.com or call 866-DO-STUFF to find out more information.